As promised, the re-blog from LeAnne.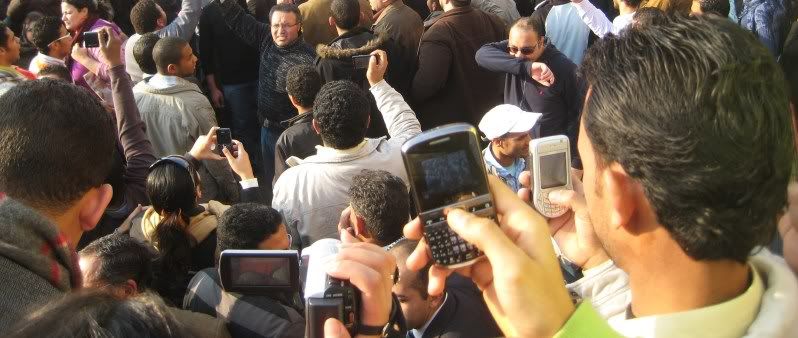 Social networking has been the way for Egyptians to organize protests and the Egyptian government is reacting. Copyright: LeAnne Graves
Egypt is making international headlines, but for how long?
In the wake of yesterday's explosive demonstrations where tens of thousands gathered in Cairo's downtown area with other protests being held throughout Egypt, what will today bring? The government has said that it will not tolerate any rallies and have already stationed several police in key areas throughout the city.
Twitter was shut down yesterday while mobile phone towers in Tahrir Square were cut. Others have experienced the blocking of Facebook, although that is yet to be officially confirmed and I currently have access to mine.
News is spreading that protests were to begin again at 1 pm in Tahrir, the site of yesterday's largest gathering. Then other reports have these places as meeting spots:
·

Cairo - 6th of October City Al Hussari Sq
·

Cairo - Nasr City midan el sa3a
·

Cairo - Ramsis leading to Tahrir
·

Al Mansoura - Al Jala2 Gate
·

Assuit - Sawiras Building - Majzoob Square
·

Alexandria - After Dhuhr at Al Qaed Ibrahim
·

Alexandria - At 2 PM at Al Manshi
·

Tanta - In front of the Muhafza Building
·

Shebeen Al Kom - Omar Afandi Square
And for the biggest one (reportedly): "Egyptians calling for a ONE MILLION PROTESTER MARCH right after Friday prayers."
I was in a cab earlier and while police were set up in riot gear throughout certain areas, it was business as usual in Cairo. However, Egyptians panicked and began leaving work early because of supposed "demonstrations." This doesn't surprise me at all; any excuse to get out of work and they'll find it. My cab actually went from the Zamalak bridge to the Corniche (the same bridge that was blocked yesterday) and all was easy breezy.
My cab driver said that he personally didn't expect much to happen today – which has been the general consensus. Farouq, a cab driver for 35 years with seven of those years spent in Saudi Arabia, said: "The Egyptian people are tired of Mubarak. Food is getting too expensive. [Term limits] should be made. Everyone is poor." The Egyptian government wants the international community to believe that this uprising is based upon food subsidies, which government officials have assured the people that it would pick up the rising costs. However, that's not entirely true. This fight isn't one of economic disparity, but of political will.
I asked Farouq the same question I asked demonstrators yesterday: if not Mubarak, who? He said, "We want El Baradei. He has a great deal of money and is looking to help poor people." I followed, "But he's been away from Egypt for awhile, does he even know the needs of today's Egyptian?" Farouq just kept explaining how El Baradei fought for the poor man.
Mohamed El Baradei in Brief:
·

Former head of the International Atomic Energy Agency
·

2005 Nobel Peace Prize winner for his work to curb nuclear proliferation
·

No real political experience and the only real opposition Mubarak faces
Take a look at this
December interview
from
Al Masry Al Youm
from December 23, the only plan El Baradei has is to unite the opposition. If I were given the opportunity to interview him, my questions instead would have included:
·

How do you plan to unite the opposition groups?
·

While change can't occur overnight, what steps will you take in an effort to promote gradual change?
·

If elected as leader of Egypt, what will be your first order of business and how do you plan to approach it?
I hear all this rhetoric about his dissatisfaction with the current rule, but what I fail to ever hear are the steps he plans to take. The same is true for the protesters and Farouq.
Farouq talked to me about corruption, and no sooner than he spoke those words, I looked down at his meter that had instantly jumped from LE21.50 to LE36.10 (meters are supposed to go in increments of LE0.25). You can't fight corruption if you are just as corrupt.