**Let me first make something very clear, I am not referring to the Dolphinarium in Makadi Bay, nor would I ever recommend going to such a location. **
It was my birthday a few weeks ago, and this year we decided to do something different from the "go out party and get wasted" theme. Instead, K and I decided to do something that has been on my bucket list for years. To swim with dolphins.

I have blogged in here before about how excited I get when I see dolphins from a distance, so you can only imagine how unbelievably excited I was at the prospect of swimming with dolphins.
The trip that we took goes past what is known as the "Dolphin House" about 2 miles off the Gouna coast. It is called this not because the dolphins actually live there, but because of the frequency with which the dolphins are constantly spotted.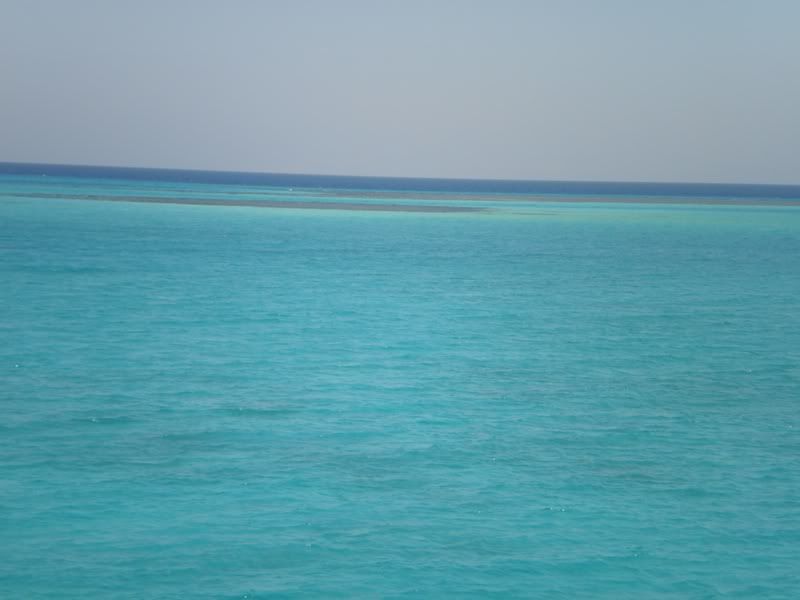 Heading out to our first snorkel spot
One thing that made this trip stand out from any other boat trip, is that our boat actually asked people to be quiet when we saw our first pack of dolphins. Instead of the deafening blowing of the horn, high-pitched whistling and shouting in an attempt to attract the dolphin, our boat cruised along silently. It made all the difference; the dolphins were so curious to come up and see who was around, and were enjoying showing off. We saw tail slaps on the surface, dolphins swimming past the boat sideways to check everyone out, and a total of at least 15 dolphins in the first pod to pass our boat.
The trip includes two snorkelling stops and lunch on the boat. Our first snorkel spot was beautiful, although I have to admit that the corals we snorkelled around did not have as much of a variety of marine life as the corals closer to Giftun island do. So if seeing loads of marine life underwater is your objective, look for snorkel trips around Giftun. If dolphins are your primary goal, this trip is ideal.
Jellyfish!
After the first snorkel, we got back on the boat to have lunch. The lunch includes meat, fish, fresh salads and veggies, and a variety of potato and rice dishes. Overall the food was good, but not the best food I've had on boats. I would rate the meal at around a 6 out of 10, we had to add salt, and the Kofta tasted like the frozen store variety.
Following lunch we moved our boats about a half a mile, and anchored to the second snorkel spot. This spot was next to a massive coral, and proved more exciting than the first spot. Our boat had attracted the attention of about four dolphins who swam around our boat on a 50 metre perimeter. At one point they swam directly under the boat, but it seemed that once people got into the water they disappeared.
The current this day was very very strong, so after debating whether or not I'd actually get in the water for the second snorkel session, I was ready to get out after about ten minutes. While swimming back to the boat a dolphin surfaced about 10 meters to my left. I swam like I've never swum before...and it made everything worth it. The minimal sightings on the coral, the 'just average' food, everything was made acceptable by what transpired next.
By this point there were only a handful of swimmers in the water, which may have helped in letting the dolphins feel confident enough to get up close and personal. I literally had a dolphin swim directly underneath me, and had I wanted to I could have reached out and touch them. I did not though; it was enough of a privilege simply to be around these incredible animals that I did not feel the need to have to "pet" them.
The curious four
I wish I could describe how it felt to be in the presence of these majestic creatures. To know that they willingly came close enough to check us out. It was a quiet intelligence and a sense of really being "seen" by the dolphins. I cannot imagine that swimming with captive dolphins would even come close.
Our captain told us that we were very very lucky to actually have been able to swim so closely with the dolphins. Often the trip will include dolphin sightings, but rarely will it actually involve people swimming with the dolphins. It made it so much more special, and this will definitely go down in the books as a birthday to remember.
The cost of the trip as advertised is 30 Euro per person, however resident rates may apply. For more information you may see
here
, or
contact me
for a direct phone number.
And here is a clip taken during our day out :) I am sorry it is so short, but I was too excited to stay still long enough underwater for a decent video!